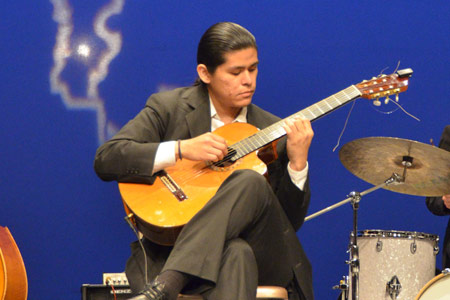 Cristian Pérez
Cristian Perez is a guitarist born and raised in Buenos Aires, Argentina. Since he moved to the United States in 2002, he has obtained both a B.M. and M.M. from George Mason University with concentrations in both Classical Guitar Performance and Jazz Studies. He has had the privilege of being mentored by respected musicians of diverse styles (such as Berta Rojas, Rick Whitehead, Larry Snitzler, Ken Hall, Mark Brandt, Tyler Kuebler, Mike Stern, and many others), and sees no boundaries between Jazz, Classical music, South American music, and other genres.
He was a winner of the GMU Honors Recital in 2009, 2010, 2011, and 2012, and the Outstanding Service Award in the College of Visual and Performing Arts upon obtaining his Bachelor's degree. He has performed in various classical guitar master classes for greats such as Pepe Romero, Roland Dyens, and Carlos Barbosa-Lima. He has also played in the GMU Jazz Ensemble for 4 years, and performed with a smaller combo in Shanghai and Beijing (China) in October 2011.
Cristian's newly formed quartet (consisting of guitar, bass, drums, and sax) presents original compositions as well as a few arrangements of Argentine tangos and folk music, and a few seldom-heard pieces by other contemporary composers of various genres. In addition to this group, Cristian plays solo and collaborates with many musicians from the Metropolitan area in many different settings.
cristianperezguitar@gmail.com