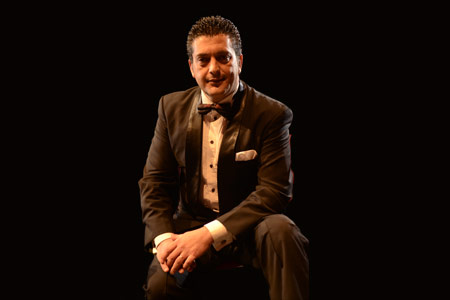 Roberto Leiva: Cantante de tango
Nacionalidad: Argentina
Profesión: cantante
Género: tango
Trabajos realizados:
Se inicio participando en festivales y shows, trabajando para la productora AB producciones, en el año 1988, compartió escenario con figuras como, Roberto Goyeneche, Hector Pacheco, Hugo Marcel, Enrique Dumas, Serio Denis, etc. Integró las orquestas de: Orquesta símbolo de Alfredo De' Angelis, dirigida por su hija Gigi, desde 1995, hasta el año 1999, realizando giras por Chile, Perú, Ecuador etc. Integró la orquesta del maestro Luis Migliori, alternadamente entre el 2000 y 2006, viajando en una oportunidad a Ecuador y por el interior de la pcia de Bs. As.
También en entre el año 2000 y 2002, formó parte del octeto San Telmo, actuando en festivales como Buenos Aires Tango en su primera edición y en el salón dorado de la municipalidad de la ciudad, como así también por el interior del país. En 1991 llega a la final del concurso Hugo del Carril organizado por la secretaria de cultura de la ciudad, logrando la primera mención en dicha final.
Ganador del preCosquín 1989.
Actuaciones en televisión:
-1992 y 1993, programa "El Gran Debut", Canal 7
-1998 y 1999, "Los Amigos del tango", conducido por Juan Carlos Mareco, Canal 7
– 2004 "Por siempre tango", conducido por Silvio Soldán, Canal 26
– 2004, 2005, 2006, 2007, "Por el tango", conducido por Nolo Correa, Señal Solo tango.
Trabajó en casas de tango: Esquina Homero Manzi, Sabor a tango, Taconeando, Boca tango, Osvaldo Pugliese, etc.
Realizó Giras por:
-Chile, Perú, Ecuador, entre 1995 y 1999.
-Ecuador en el año 2004 (con Luis Migliori), 2006, 2007, y 2009, 2011 con La orquesta del maestro Tito Ferrari.
– Brasil (San Pablo) 2011.
– EE.UU. en el 2006, invitado por el comité argentino de Virginia en Washington.
Y en diferentes festivales del interior del país.
– Luna Park año 2005, invitado especialmente por la Sra. Nelly Omar.
– Trabajó para el turismo en casas como:
-"Sabor a Tango" durante el 2004.
-Desde el 2005 al 2009, en "Boca Tango".
– El Viejo Almacén, Taconeando, en San Telmo.
-Integró la Embajada cultural del club Boca Jrs, entre el 2002 y 2006.
-Realizando giras por el interior de la Pcia. de Bs As y resto del país.
Discografía:
Su primer disco "Homenaje a las glorias del tango" llega de la mano del Sr. Jorge Fernandez.
Y su trabajo largamente esperado, lo graba con la orquesta de su amigo y maestro Tito Ferrari, llevando esto a decidir que su titulo debía ser "Amigos que yo quiero", editado en el 2007, presentándolo en el Teatro español de Santa Rosa, en la pcia de La Pampa. Del 2008 at 2011, c en "Boca Tango" y con la famosa Orquesta del Maestro Tito Ferrari; y shows en San Pablo, Brazil.
A la fecha sigue trabajando en el medio y de donde sea convocado para brindar su actuación. En 2012, en el viejo almacén, taconeando, catedral tango, embajada cultural de Club Atlético Boca Jrs, todos los fines de semana, además de eventos privados empresariales. Para el 2013, continuará con sus eventos y se prepara para viajar como "Embajador de Tango Argentino-USA Tour!

ENGLISH SUMMARY
The artistic career of Roberto Leiva begins there in 1986 when he was 20 years old, in Quilmes, Buenos Aires.
He journeys in traditional places such as "Castello Vechio ", Channel 7, the Orchestra of Gigí De Angelis in " Viña del Mar ", Chile. Participates with Juan Carlos Mareco in "Pinocho " in its successful cycle of Channel 7 "Flavor of Tango". In "The Corner Homero Manzi", "Boca Tango ", "Theater President Alvear ", "Cultural Center San Martín ", do the "Luna Park " equivalent to the Madison Square Garden of New York with the legendary Nelly Omar. "By always Tango ", with Silvio Soldán.
Share scenes with famous such as: Roberto Goyeneche, Alberto Marino, Néstor Fabian, Raval Wake, Nelly Omar, Héctor Pacheco, Floreal Ruiz, Enrique Dumas, Sergio Denis, and many great figures of our music.
In 2002, launched its first CD "Stamp of Tango " which it follows in the 2005 "Boca Tango " and in the 2006 "In Love I am " 2007 Sao Paulo Brazil and in provinces of Argentina until 2012, with Boca Juniors and business etiquette events. For 2013, will continue with events and preparing like "Embassador of Tango Argentino-USA Tour.
Malena

La última curda

Naranjo en flor